A top seller! Exceptional felting workmanship makes our Wild Woolies Rainbow Hummingbird Felt Ornament very special. Educational, decorative, and entertaining for birding enthusiasts of all ages. Made with fine merino wool and soft to the touch. 
The Hummingbird is one cute customer, and an amazing animal as well! These tiny wonders are able to flap their wings anywhere from 12-80 times per second. They use their unique hovering ability and long beaks to drink the nectar of flowers. A favorite for almost every bird lover, these little guys can live up to a decade and have been found in the fossil record up to 30 million years ago!
5.5''

Weather Proof

3'' Hanging Loop
Meet the Artisans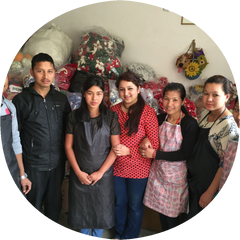 Walking into the Kathmandu production center's reception you are immediately greeted by a cheerful 'Namaste' ('I Salute the God Within You') with hands pressed together in a prayerful expression. Proceeding into any of the production halls you'll be greeted by a complete chorus of the same as dozens of ladies press felt into a variety of shapes, while others stitch, needle and applique to finish hundreds of different styles of decorative items for export.
Sheep's wool is an amazingly adaptable fiber. It can be dyed any color and when hand felted using warm mildly soapy water it can be molded into any shape, or then cut and sewn together as per your imagination. Because the felting and most of the stitching process is all done by hand with natural materials that can be sustainably harvested, hand felted products have a relatively soft impact on the environment. Commercial exports of felted products from Nepal have grown exponentially since around 2000, benefitting thousands of mostly women workers, production managers and family businesses who help support their families and educate their children with their earnings.