A top seller! Exceptional felting workmanship makes our Wild Woolies Snowy Owl Felt Ornament very special. Educational, decorative, and entertaining for birding enthusiasts of all ages. Made with fine merino wool and soft to the touch. 
The royal-looking Snowy Owl is the largest (by weight) bird in North America and is, not surprisingly, found primarily in the colder, snow-covered regions of North America. This impressive-looking bird is often a striking pure white and though infrequently seen, can usually be spotted perched on near ground objects. A primarily ground-nesting species, the Snowy Owl's distinctive coat helps it hide from both predators and prey birds! Lovingly soft to the touch because they are made with fine natural wool.
5.5''

Weather Proof

3'' Hanging Loop
Meet the Artisans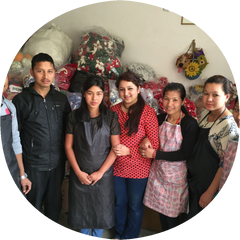 Walking into the Kathmandu production center's reception you are immediately greeted by a cheerful 'Namaste' ('I Salute the God Within You') with hands pressed together in a prayerful expression. Proceeding into any of the production halls you'll be greeted by a complete chorus of the same as dozens of ladies press felt into a variety of shapes, while others stitch, needle and applique to finish hundreds of different styles of decorative items for export.
Sheep's wool is an amazingly adaptable fiber. It can be dyed any color and when hand felted using warm mildly soapy water it can be molded into any shape, or then cut and sewn together as per your imagination. Because the felting and most of the stitching process is all done by hand with natural materials that can be sustainably harvested, hand felted products have a relatively soft impact on the environment. Commercial exports of felted products from Nepal have grown exponentially since around 2000, benefitting thousands of mostly women workers, production managers and family businesses who help support their families and educate their children with their earnings.